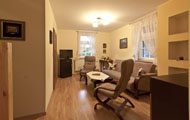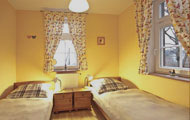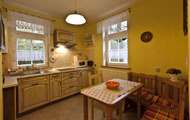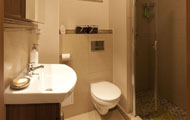 A house consists of two independent, fully-furnished apartments (ground floor and first floor with separate entrances) connected by an internal staircase. A house can be rented as a whole (4-9 persons), or you can rent a single apartment (2-5 persons).

On each floor of the house, there is a corridor, a living room and a sleeping room, a bathroom with toilet and a kitchen. The living room is equipped with a sofa bed, two armchairs, a coffee table, shelves, wardrobes and a TV set. In the ground floor bedrooms, there are two beds with nightstands. In the first floor bedroom, there are two single beds, a sofa bed, a dressing table, a wardrobe and a chest of drawers. You can also hire children cots.
Each kitchen is equipped with the necessary appliances (stove, refrigerator, microwave oven) as well as plates, pots, cups and cutlery. In each apartment, there is also an ironing board, a microwave oven and a hair dryer. In the ground floor corridor, there are sliding wardrobes for clothes. The whole is complemented by small details, such as pictures, books and flowers.
A high standard and homely atmosphere will make your stay in our resort a great and unforgettable experience.

HOUSE PRICE

400

zł per night

APARTMENT PRICE

200

zł per night

Except:
Holidays: from 01.01.2018 to 28.02.2018, holidays: from 1.07 to 31.08.

Houce price

500 zł

per night
Apartment price

250 zł

per night

Easter: from 29.03. to 3.04, May: from 28.04 to 6.05,
God's Body: from 30.05 to 4.06.

Houce price

600 zł

per night
Apartment price

300 zł

per night

Christmas and New Year's Eve: from 21.12 to 7.01.2019




Houce price

700 zł

per night
Apartment price

350 zł

per night

Welcome!



<